Demo Model 1
You can try out Open Rails by downloading this model to drive the route from Edinburgh towards Glasgow.
Models contain lots of detail and this model, which is cut down from a full-size commercial route, compresses to 250MB. Installation instructions are included.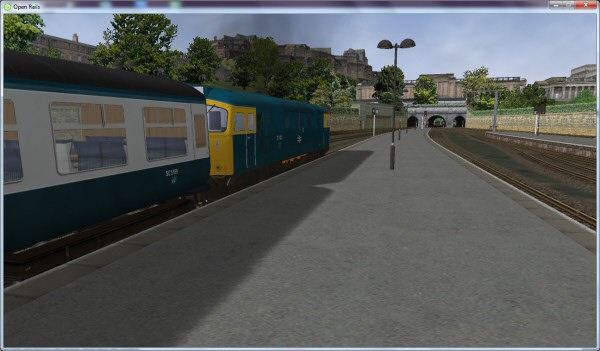 Edinburgh Waverley station
The model, generously donated by Making Tracks Ltd, reproduces the route between the Scottish capitals during the "blue" period of British Rail. Your service is a morning express from Edinburgh Waverley as far as the town of Linlithgow, about 20 minutes running.
You can also watch a player driving the route on Open Rails in this video, which provides a voice-over.
Stand-alone Content
Some content relies on the presence of files from MSTS, such as sound files and cab interiors. This is usually the case for free content downloaded from forums, so installing this content can be tricky.
Content which has no such dependence (typically labelled as "stand-alone" or "mini-route") is easy to install. All the content on this page is stand-alone.
Great Zig Zag Railway - New South Wales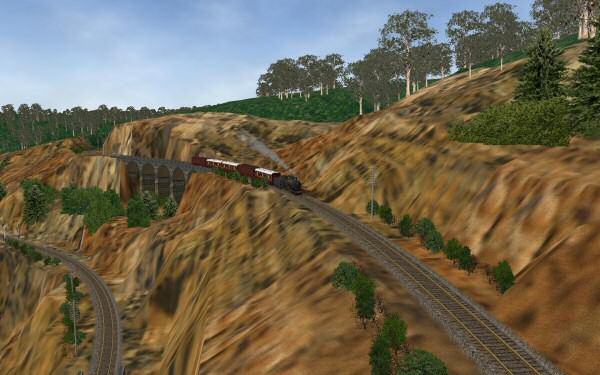 Great Zig Zag Railway
This route is steam-only and provides some good variety for new players to Open Rails.
Other Resources
The Spanish websites Viajeros al Tren and Spain Trainz Rutas are some of the first to offer Open Rails-specific products.
Deko Games offer SD60M and SD40-2 locos with 3D cabs exclusively for Open Rails.
Some Australian routes (New South Wales) have been packaged by Peter Newell to work just with Open Rails:
See our Trade page for links to commercial vendors.