Three Versions of Open Rails
Three versions of Open Rails are readily available to users, as shown below: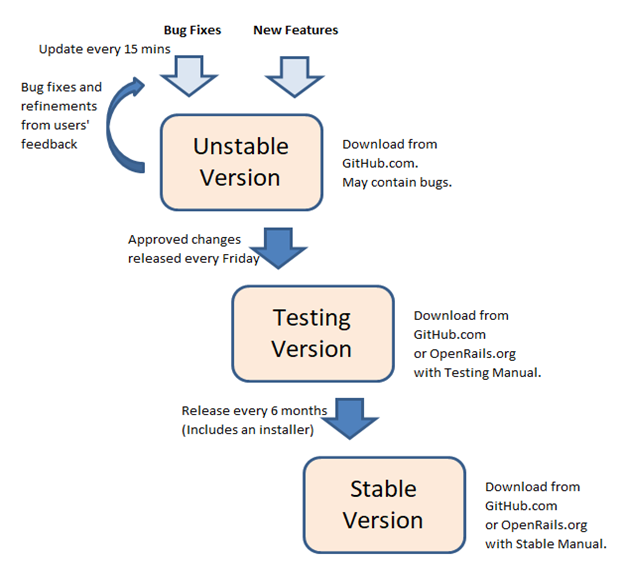 For first-time users, we recommend the Stable Version which comes with an installer.
Updater
Whichever version you choose, Open Rails has a mechanism to notify you of new versions and to update Open Rails for you. You will find the settings for this mechanism in Menu > Options > Update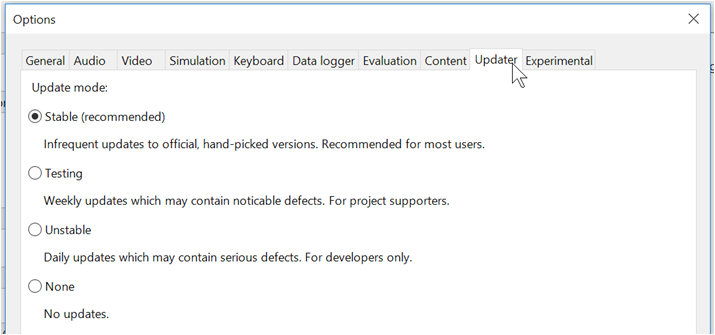 Open Rails will check for updates at most once a day. If an update is found, then you can install the update just by clicking on the link in the top, right corner:

Testing Version
If you follow the Open Rails project on the forums, then you will hear about bug-fixes and new features. These are included in the Unstable Version for developers and testers to try out. Once they have been checked and approved, they are published (on Friday) as the latest Testing Version. Any user can easily update to the current weekly Testing Version and benefit from these improvements.
Recent Code Changes
T1.4-524-g50f43621b Merge pull request #646 from cesarBLG/brake-controller-mrp
Fix issue with brake controller pressure

5d22bbe6 Add warning for incompatible brake valves
0f890b05 Add missing change
0cbbc613 Further corrections regarding main res pressure
89e82a82 Use main reservoir pressure instead of main res pipe pressure

T1.4-519-g16d3fbcb8 Merge pull request #642 from FrannDzs/spanish-localization
Update es.po (menu)

151caea1 Update es.po
Added missing quotation marks.
daa81a5c Update es.po
Fixed last commit with obsolete translation.
3f2e60c2 Update es.po
Corrected some expressions and minor fixes.
be96bcbc Update es.po
More fixes, some texts did not fit in the boxes.
cedbc135 Updated es.po
- Clima aleatorio > Aleatorizaci├│n de clima
- Temporada: > Estaci├│n:
71984a17 File cleaning
4933bae2 Updated es.po
Rebuilt and updated with latest version of the template.
35723928 Merge branch 'openrails:master' into spanish-localization
d734c9be Update es.po
- Alerta en la cabina > "Hombre Muerto" en cabina
79016dc8 Update es.po
- Mensajes de configuraci├│n "verbosed" de ENG/WAG >Mensajes de configuraci├│n detallados de .ENG/.WAG
- Nombre: > Nombre
734adba6 Updated es.mo
- Sombra para todas las formas > Sombras para todas las "shapes" (objetos estáticos)
91dbe9f0 Update es.po
This fixes a string from the previous commit. (Aleatorizaci├│n de clima > Clima aleatorio)
4899beb4 Update es.po
908567cb Update es.po
- Recompiled with Poedit
be0e0818 Update es.po
- Luminosidad de luz de se├▒alizaci├│n > Resplandor de luces de se├▒alizaci├│n
acf49272 Update es.po
Unnecessary spaces eliminated.
Fixes for text strings not fitting correctly in buttons/boxes.
The current Testing Version can also be downloaded as a Zip archive: